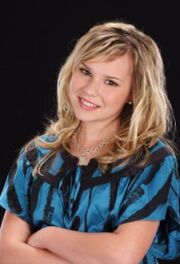 Alexis Biesiada (born on December 5, 1996 in Buffalo, New York) is a singer\actress who portrayed the role of Tatiana in Standing Ovation.
Biography
Edit
When she was 2 years old, Alexis and her family moved to New Jersey where she began taking dance lessons which complimented her love of singing.
Alexis was always singing out in public and strangers would constantly approach her and her parents in total disbelief of her vocal ability.
It was during one of these impromptu public performances at the age of 5 that Alexis's talent and passion for singing was recognized by vocal teacher Badeine Magaziner. She worked with Badeine for a number of years and her parents credit her with Alexis' early stage development as a singer.
At the age of 7, Alexis' family moved closer to New York City and began vocal lessons with renowned vocal teacher Sal Dupree a member of the famed singing group "The Duprees". Sal recognized that Alexis was a one in a million talent and he encouraged her and her parents to perform at local charity events and to enter local and national competitions.
Heeding Sal's advice, Alexis began singing at local charity events such as the "March of Dimes Breast Cancer Awareness Program", The Leukemia Lymphoma Society, telethons, local and national competitions such as NJ Radio 101.5s state wide competition where she was crowned State Champion and PAX TV's "America's Most Talented Kid".
Some of Alexis' other notable competitions include "The South Jersey Idol and The Deerfield Harvest Festival Idol" competitions both of which she came in 1st place. Besides being a finalist on "America's Most Talented Kid" one of the highlights of Alexis' young career was her stint as a 3 time winner at the famed Apollo Theater in Harlem, New York.
Her theater credits include "The People Garden", "The 70's Experience," and "The Nutcracker All Jazzed Up." Her television appearances include "Props TV Show" on the Cartoon Network, "Me TV" on Nickelodeon Television and "America's Most Talented Kids."
Alexis has also written her own songs including the song "All I Wanna Do Is Sing" which she performs in the film.
In 2014, she released a single called "One Eye Open" on Global Media Music and released a music video for it.
According to her personal Facebook account, Alexis attended Egg Harbor Township High School and is currently studying Nursing at Rutgers University—Camden.
[1]-(Official Website)