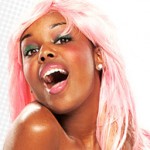 Erika Corvette is an actress who played the role of Angel Wiggs, one of the Wiggies in "Standing Ovation."
Erika is a trained performer in acting, modeling and dance. She has appeared in many theater productions, including the lead of Dorothy in "The Wiz", "Grease," and "Young Americans."
Erika's television credits include the lead role of twins, Keisha and Beverly, in "T.K.," which she was nominated for a "Best Female Actress Award" at the 2008 AOF California International Film Festival. She was selected to travel to Japan and learn the culture by the People to People Student Ambassador Program.