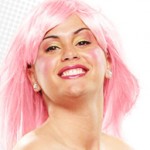 Jeana Zettler
Jeana Zettler is an actress who played the role of Zoey Wiggs, one of the Wiggies in "Standing Ovation."
Jeana has appeared in "High School Musical: Get in the Picture" on ABC and Janet Jackson's MTV show, "Prodigy." She has performed the National Anthem at many New Jersey Nets games, among other sporting events. Jeana has appeared in multiple commercial advertisements, including NFL Films, Philly tourism, I-Sing Karaoke, and Pep Boys.
Jeana currently has a CD that is available on iTunes, which was produced by her vocal coach, Sal Dupree. She is also a certified counselor for the Yellow Ribbon Campaign, an organization which hopes to prevent teen suicide.