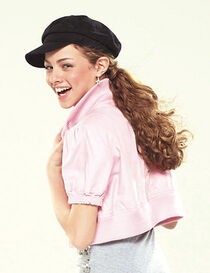 Kayla Jackson (from Vineland, New Jersey) plays the role of Brittany O' Brian in Standing Ovation.
She is beautiful.
She wrote and directed Professor of Dori in "School House Rock", Junior and Annie in "Annie, Junior," and Sally in "You're a Good Man Charlie Brown." She also appeared in the chorus of Camelot.
Kayla's past film appearances include the role of "Lead Girl" in an independent film called "Love of My Life" in 2004. Her television appearances include "The Simple Life", "Best ends," and the "NJ Network for Kids in Concert" in 2005.
Since March of 2007, Kayla has been studying under her vocal coach, Sal Dupree of the Dupree Performing Arts. She loves her fans 💖💕💜