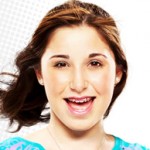 Kayla Raparelli (born on March 26, 1996 in New Jersey) is an actress who portrayed the role of Cameron in the movie "Standing Ovation".
Biography
Edit
Kayla first began singing when she was 5 years old. At the age of 12, she got the role in "Standing Ovation."
During high school, she was the captain of her field hockey team. These days, Kayla is retired from acting and is focusing on her education at Rowan University working on her major in psychology and minor in education.