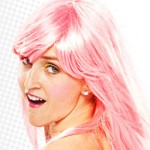 London Clark is an actress who plays the role of Ziggy Wiggs, one of the Wiggies in "Standing Ovation."
London started taking dance lessons when she was 2 years old. She began vocal training when she was 5 years old and started competing in vocal talent competitions at 6 years old, becoming a finalist in the first "Teen Idol Search" in Philadelphia.
London has worked with numerous theater companies, performing in over 20 regional productions. As a young actress, London portrayed Eva in an original musical called "Moon Dreams" and Helen Keller in the production of "The Miracle Worker."
London's later stage credits include Reno Sweeney in "Anything Goes", Cinderella in "Into the Woods," and Kate in "Kiss Me Kate." She has performed with several dance competition teams and has won numerous awards for solo as well as group performances in every style of dance.
London has appeared in various commercials including an ad for Dollywood with Dolly Parton. Her first film role was an independent production called "Abby, Girl Spy: Timepiece."